************
Author: C.A. Gray
Narrator: Melissa Williams
Series: Uncanny Valley Series, Book 3
Publisher: Wanderlust Publishing
Released: Sep. 14, 2018
Length: 9 hours 48 minutes
Genre: Young Adult, Science Fiction


The Silver Six have blown the Renegades' underground compound to bits, killing several of Rebecca's best friends in the process – and to her horror, the boy Rebecca had convinced herself she loved for all these years was the one to betray them all. At the same time, General Specs, the company Liam was once slated to inherit, has developed a super intelligent robot called Jaguar which is quickly becoming godlike in her omniscience. As the remaining Renegades flee to their last bastion of safety in the Caribbean, Liam makes his way back to London, in a last ditch effort to convince his father to destroy Jaguar before it's too late.

Rebecca, meanwhile, finally understands her own heart: she never loved Andy. He was merely a "safe" choice who would never require anything of her. Liam, on the other hand, exasperating as he was, had seen past her defenses. All of his teasing and provoking had been his attempt to get her to be real with him – but the more he made her feel, the further she had retreated. She had even substituted her companion bot Madeline for real, deep human friendships, and for the same reason: she'd been avoiding love to protect herself from another loss like the one she had experienced when her father was killed for the Renegades' cause. Ironically, she only realizes this once Liam is on his way to a similar fate. But she'll be damned if she lets him go without a fight.

This high stakes conclusion to the Uncanny Valley Trilogy envisions a world not too far off from our own, in which super intelligence is a reality, humanoid bots have supplanted human power and influence, and there are eyes watching and reporting our every move. If humanity is to survive, the Renegades will have to galvanize support across the globe, under the radar – and it will require every last bit of ingenuity they possess. But is attempting to outwit a super intelligent being really the answer? Or will it require something much more fundamentally human?




By day, C.A. Gray is a Naturopathic Medical Doctor (NMD) with a primary care practice in Tucson, AZ, and she writes medical books under her real name (Dr. Lauren Deville). She lives with her husband, with whom she maintains a facetiously contentious movie review blog, and travels as often as they can get away. When not writing or seeing patients, she does yoga, drinks red wine while eating dark chocolate, and consumes audiobooks like there's no tomorrow!

Melissa lives with her family, including two dogs and a cat, in the foothills of the Rocky Mountains near Denver, Colorado.
After having a corporate job for most of her life, and as a self-proclaimed introvert, she decided to leave corporate America to work from home. Voice overs had always tugged at her heart as something she would like to explore, so she attended some classes and landed with a company that taught her how to break in to the industry.
Loving to read, she explored the fast growing world of audiobooks and fell in love with it. She has ten audiobooks under her belt and is currently working on the 11th. Understanding that she should always be learning how to improve her skills, she is currently working with Sean Pratt.
When not talking to herself in a padded room, she can be found walking her dog, singing or fishing the Arkansas River.

Those of us who have been reading science fiction and watching the old classic movies for longer than we may care to admit have harbored a not-so-secret concern that someday we would be confronted with robots who are not only sentient but super-intelligent and in a position to take over the world. In the Uncanny Valley Trilogy and especially Jaguar, Ms. Gray has brought a fresh approach to this concept.
Rebecca and the rest of the Renegades are living on the edge of such a doomed future and are really the last bastion against the Silver Six and Jaguar but they now need to spread their fight to other parts of the world. The AIs have been very successful at convincing people that having them in charge is best for all but there's another, perhaps more dangerous, threat in Jaguar, the most self-aware and powerful AI ever.
This conclusion to the trilogy is thought-provoking, especially regarding our very real proclivity for believing the lies of those in power when they speak to our desires and fears but this is not the entertaining part of the story. Rebecca and her colleagues have to face up to personal issues, betrayals and life-threatening danger and Ms. Gray never lets the tension ease.
Once again, Melissa Williams brings life to an already exciting tale and I have to say she's been an important element in my enjoyment of the Uncanny Valley Trilogy. I hope to hear more from her in the future.
Reviewed by Lelia Taylor, May 2019.
I received this audiobook as part of my participation in a blog tour with Audiobookworm Promotions. The tour is being sponsored by C.A. Gray. The gifting of this audiobook did not affect my opinion of it.

Giveaway: $25 Amazon Gift Card
Uncanny Valley Series Giveaway: $25 Amazon Gift Card
https://js.gleam.io/e.js

THE SILVER SIX
May 2nd:
May 3rd:
May 4th:
Momma Says To Read or Not to Read
May 5th:
May 6th:
May 7th:
May 8th:
JAGUAR
May 9th:
Valerie Ullmer | Romance Author
May 10th:
May 11th:
May 12th:
Momma Says To Read or Not to Read
May 13th:
May 14th:
May 15th: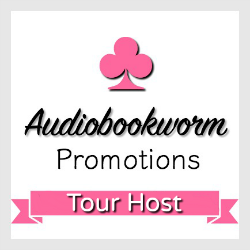 ➜Sign up as a host here